January 1st, 2013  |  Development Center of AthTek Software
———
We have released a new version of Skype Voice Changer, which has included some new features. If you want to make fun of your friends on Skype, this voice changer may be a nice choice for you. The free trial of Skype Voice Changer v2.0 is ready for your download from our official website: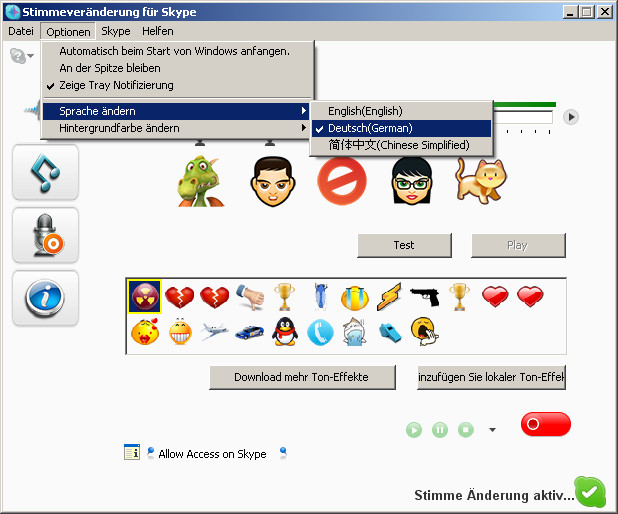 What's New?
* Includes German language interface;
We have included German language interface to Skype Voice Changer 2.1. This means if you use German as your primary language, you would be able to use Skype Voice Changer in your own language. Thanks to Lynn Coleman who help us translate the documents to German. We still need other kinds of languages such as French, Italian, Korean, etc. If you are willing to help us in translating Skype Voice Changer to your language, please feel free to contact us at: partner@athtek.com. A lifetime free license key will be provided to you for thanks to your contribution.
* Includes more free sound emotions;
We found that sometimes the free sound emotions cannot be installed to Skype Voice Changer correctly. Thus we include them into the new version. You can now use all the free emotions without installing them manually.
* Supports to generate the license key instantly.
If you have ever bought Skype Voice Changer or AthTek Skype Recorder before, you would know that the license key is generated manually. Usually you will get the license key hours later when you purchase the full version. But now you can get the license instantly in the payment process. The only thing you need to do is to fill in your Skype ID or Machine Code into the field after you have paid the money via Paypal. Then you would be able to generate the license key by yourself.