Next: Special Offer for All-in-One Voice Changer
The previous special offer for Webcam Surveillance Monitor has expired, and the new special offer for AthTek Registry Cleaner has already started. This special offer is prepared for Windows users who want to speedup a slow Windows computer. Anyone who buys AthTek Registry Cleaner in October will get an auto-applied 10% OFF discount instantly. If you have done any of the following tasks, an additional 40% OFF coupon will be provided to you.
Review AthTek Registry Cleaner on your blog/website (recommended)
Buy Full Version of AthTek Registry Cleaner in Special Offer Now!

When you have done the task, please send the link to pr@athtek.com. You can also capture a snapshot of what you have done and send it to us. A 50% OFF coupon will be generated and send to you within 12 hours.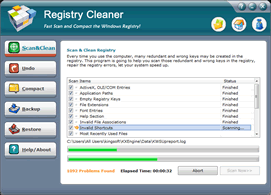 AthTek Registry Cleaner is the best registry cleanup tool for system errors and crashes. It is a comprehensive system maintenance tool which can deeply scan, clean and optimize registry entries. It doesn't like those free registry cleaners which can only find a few registry errors. AthTek Registry Cleaner has a large scanning scale than any other registry cleaner and it was recommended by many Windows users.