RegistryCleaner Has Been Released!
Development Center, AthTek Software, March 20, 2011.
————————————————————————————
Free Google Translate Desktop V2.1.58 has been released!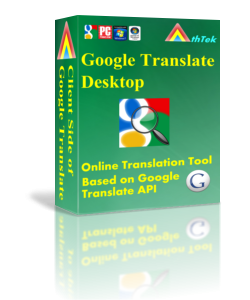 What's New?
1. Quickly translate almost any text between 58 languages
2. Pronounce for 34 Languages
3. Add 4 skins to the interface
4. Add control pannel for Thai and Spanish
5. Add font settings
6. Add web page translation
7. Fix bugs with unicode text saving
8. Fix bugs in romanizations
9. Optimize the free updating function

Google Translate Desktop is a cute free desktop translator based on google translate. It can quickly translate almost any text between 58 languages, and pronounce for 34 languages of them. The new Google Translate Desktop V2.1 enables to translate website on the browser side. It monitors the clipboard and automatically translate the content on clipboard to the target text. Also you can import text for a translation and export the results to a txt file by Google Translate Desktop.
It can be used for:
Reading Foreign Article:
Google Translate Desktop can help you in reading foreign articles easily. Sometimes you want to read an article by foreign authors, but you feel hard to understand the foreign languages. "What the hell is that?" Even you know there is important message in that article, you couldn't know clearly what they mean. With Google Translate Desktop, you can easily translate the whole article into your own language. You can also translate just a single word or sentence to target language. It will help you to easily get the key of the foreign article.
Communication on FaceBook & Twitter:
Google Translate Desktop helps you to send a quick response when you are communicating with foreign guys via FaceBook or Twitter. We have many friends all over the world, but usually they are using an unknown language that we can't know exactly what they mean. With Google Translate Desktop, we are able to know what they mean no matter what language they are using. Also we can post in their languages on FaceBook and Twitter!
And more…
Learn More: Google Translate Desktop is a Free Desktop Translator
FAQ: Display Problems About Translating Arabic And Hebrew
Next Update: Skype Call Recorder Has Been Updated To V4.1