New Website For AthTek Skype Recorder
50% OFF For Skype Call Recorder
Monthly Promotion: IP – MAC Scanner With an Unbelievable Low Price in June!
The monthly promotion of AthTek Keylogger is going to expire in the end of March, 2011. In the next month of April, Skype Call Recorder will be available for monthly promotion.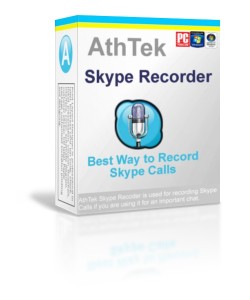 AthTek Skype Recorder enables Skype users to record high-quality Skype calls automatically. It runs along with the Skype program, records both side of a Skype call. It detects the connection with Skype, and automatically record the Skype call with no manual operation is required. AthTek Skype Recorder saves the high-quality recorded audio file as Mp3 or WMA format. More than that, the recorded Skype call can be automatically uploaded to the internet, for you can hear the call from any side all over the world.
AthTek Skype Recorder also can be used in recording remote business meeting via Skype.
Take Audio Notes For Online Conversations
Previous and Next Monthly Promotion:
Discounted Price of Webcam Surveillance Monitor Pro is Available in May
Don't Miss The Only Chance To Get $20 OFF For AthTek Keylogger
Save $299 For AthTek NetWalk
How to Get The Discount
Related Product:
AthTek Skype Recorder – Automatically record high-quality Skype calls