New Website For AthTek Skype Recorder
RegistryCleaner Has Been Released!
Development Center, AthTek Software, March 31, 2011.
————————————————————————————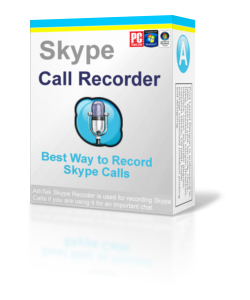 AthTek has release a new version of Skype Call Recorder. With the new Skype Call Recorder, users are able to have a better experience for voice recording.
What's New?
* Fix bug with manually recording
* Fix bug with only side recording
* Enhance the compatibility with Win7
AthTek Skype Recorder comes with a clean interface, which makes sure you can easily know what you are doing and what you will do the next even it is the first time you run it. You can also control your Skype from this Skype Recorder, even register a new Skype account by using this Skype Recorder. It will be very convenient to configure AthTek Skype Recorder, you can find all the settings on a single Properties panel, just like you are using Skype.
AthTek Skype Recorder is compatible with Windows XP/Vista/7 32/64 bit. It is good at high-quality voice recording on both side of a Skype conversation. The records can be export to Mp3 or WAV files. Skype Call Recorder automatically starts with your Skype, and capture any voice in the Skype conversations. More than that, Skype Call Recorder enables remote voice recording for you can listen to the Skype conversation as a third party.
Related Resource:
Free Google Translate Desktop V2.1.58 Has Been Released
Monthly Promotion: 50% OFF For Skype Call Recorder
Take Audio Notes For Online Conversations
How To Monitor Remote Skype Calls
AthTek NetWalk Enterprise Edition V1.3.51 Has Been Released