We decide to participate in the program of Giveawayoftheday.com with our DirectX ToolKit – Reinstall DirectX EZ. Anyone who want to use the full version of Reinstall DirectX EZ can download it from Giveawayoftheday.com on February 20.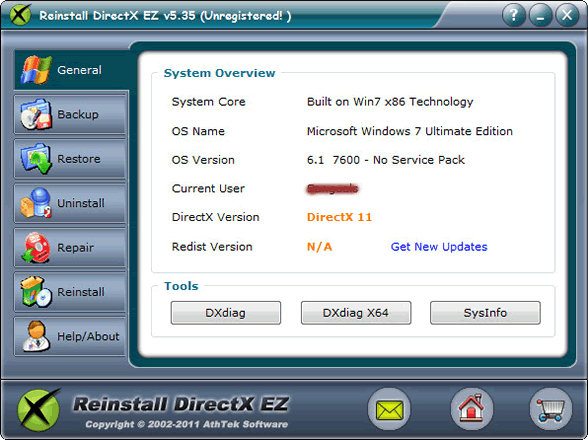 When you download Reinstall DirectX EZ from Giveawayoftheday.com, you will get a license key along with the package. This is a one year license and you are allowed to use this license till the end of this year. It will expire on January 1, 2013 and you need to purchase a new lifetime license for continuously useing.
Reinstall DirectX EZ is a DirectX Toolkit which can help Windows users to reinstall/uninstall DirectX from PCs. Sometimes Windows users may meet fatal DirectX errors when they are palying games. Traditional way to fix DirectX errors is to reinstall the entire operating system. With Reinstall DirectX EZ, you don't need to touch the operating system at all, and the fatal DirectX errors will be removed fast and conveniently.
Please note, this free giveoff only be provided on Giveawayoftheday.com on Febtuary 20, 2012. If you download it from other sites or on other dates, we won't provide the license key for free. If you want to use a full version for lifetime, please purchase a license from the official website of DirectX Toolkit. It costs only $19.95, not expensive but absolutely worthy for Windows users.