June 20, 2011 Development Center of AthTek Software
———————-
Reinstall DirectX EZ finally has been released!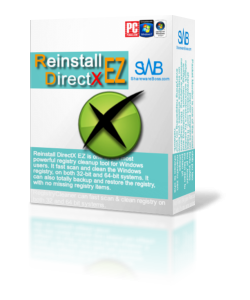 As an important link between windows system and multimedia operational and display, DirectX has been an epoch-making technique to serve complex applications especially games. DirectX errors occur from time to time and impact the functioning of games drastically, causing a nightmare to gamers.
Cheer up now! With a revolutionary DirectX management tool, you can always find a solution whether your game won't run, the DirectX update goes wrong or your DirectX needs a backward. Reinstall DirectX EZ is such a tool to wisely integrates DirectX diag feature from windows system, helps update DirectX from official Microsoft websites, repair DirectX errors, backup and restore DirectX and achieve DirectX rollback simply with a system setup disc. Unlike the traditional way to reinstall DirectX by reinstalling the whole system from scratch, DirectX rollback realized with this tool intelligently replace only the DirectX files with the target database and leave the rest system files intact. In this way, users can save considerable amount of time needed in other common software installation after a brand-new system reborn.
Also in some cases, you need to either update DirectX to a higher version or revert to original lower version to meet the recommended requirements of your fancy games. Reinstall DirectX EZ is second to none in completing these tasks too. It automatically scans your DirectX version and offers official update links to upgrade securely. Also, with a backup file of the original DirectX or a system setup disc, you can either restore DirectX or reinstall DirectX in only a few minutes.
It's worth mentioning that you need to cut off all net connections when you disc-basely rollback DirectX. With Reinstall DirectX EZ, no DirectX error will be able to stand in between you and an amazing game. There's always a solution to solve your DirectX problems. Use Reinstall DirectX EZ, the only DX management tool so far, wisely, your game play experience will be expanded and boosted!
User's review: A big remedy to run my game-Reinstall DirectX!
————————–
Reinstall DirectX EZ can perform better when using together with AthTek RegistryCleaner.
Monthly Promotion: Save $10 on AthTek RegistryCleaner in July