Reinstall DirectX EZ - Completely Uninstall DirectX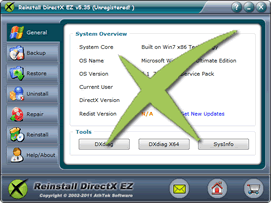 DirectX plays a vital role in supporting multimedia applications in Windows platforms. Most game errors are linked with DX incompatibility or missing dll files. It's needed to uninstall DirectX of higher version to an outdated one first to solve DX problems. You can either uninstall DirectX by rolling back to system restore point or restoring the backup file. With Reinstall DirectX EZ, all windows users can uninstall DirectX safely without affecting other system data. The application is second to none in ability to repair, reinstall, back up, restore and uninstall DirectX if needed.
As an embedded part of system data, it's dangerous to uninstall DirectX by manually removing it. Reinstall DirectX EZ is worth the budget to save time and efforts used in system format. Choose it if you have to uninstall DirectX!
How to completely uninstall DirectX?
DXdiag

Whenever a video or audio error occurs especially when you are running a game, the first clue you should get is DX error. First, we need a complete analysis of your DX. Choose DXdiag if your computer runs 32-bit system and DXdiag X64 for 64-bit systems.

Repair DirectX Errors

See? Your errors are caused by DX problems. No worries. Get your system setup disk and cut off the network. We will start to uninstall DX right now! Press next and locate the directory, and your DX will be replaced with the original DX to literally uninstall the previous DirectX.

Reinstall & Uninstall DirectX

Here let's move on to the updating steps if you seek for higher DX versions. Some games require more updated version to guarantee smoother gaming experience. So we'd better update after we uninstall DirectX. Make sure your network is still off when you either upgrade simply by built-in updates in this tool or updates from Microsoft.


DirectX backup

To uninstall DirectX, install and update to latest version seems to be enough, however, it doesn't hurt to prepare more for a rainy day. Backup feature allows you store up the current clean and updated DX on your computer in case you need a thorough rollback in the future.


DirectX restore

Next time when DX errors happen again, you won't need to uninstall DirectX anymore. Just start Reinstall DirectX EZ and go to restore tab. Locate the cab file of the DirectX you want to recover and hit restore button later. This will be the fastest way to fix DX errors!

If you still feel hard to uninstall DirectX completely, please view how to use.

Users' Review
Happened to a fatal directx error when playing game on my vista x64 system. Searched for the solutions to directx errors, but found nothing useful to me. Finally I found your reinstall directx ez, and I got all the directx problem solved! What I like it best, your program does not require to reinstall the operating system while the process of reparing directx ---------------- gamer from Great Britain
Tags
install DirectX, DirectX error, uninstall DirectX, DirectX diag, DirectX problem, fix DirectX, repair DirectX, control DirectX, DirectX rollback, revert DirectX, restore DirectX, install DirectX 9.0c, uninstall DX, guarantee game running, fatal DirectX error, install DirectX 11, install DX, DXdiag, DX error, fatal DX error, install DX 11, DX problem, fix DX, repair DX, control DX, DX rollback, revert DX, restore DX, reinstall DX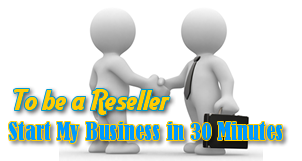 Related Applications
System backup and restore
AthTek Data Recovery supports to fast backup and restore your operating system, as well as important data.
AthTek RegistryCleaner
AthTek RegistryCleaner supports both x86 and x64 systems. It is the best registry clieanup tool for Windows users, and it can help a lot to uninstall DirectX.