We are going to release a new version of AthTek Registrycleaner, which has included a lot of new features. The beta version is now in the final close test by our engineers and expected to release before December. It would be a great update which is definitely worth waiting!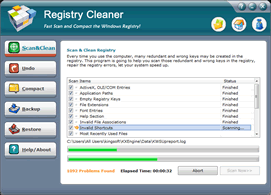 We have received many feedback of AthTek Registrycleaner in the past a few months, especially after it had been published on GOTD. Many warm-hearted persons (Thanks to James and you) wanted to help us add multiple languages such as German, French, Chinese, etc. Thanks to all of you! We were not ready for multiple languages version until the new version. We are looking forward to make this program to be a comprehensive computer management tool for PC users. Therefore we include new features to AthTek Registrycleaner – it will allows you to manage all the third-party applications inside the Registrycleaner. Also it will include many other PC management functions in the new version.
The new version is expected to release several days later. As the fastest and most complete Windows registry cleanup tool, AthTek Registrycleaner will provide much better product in the following updates. No matter whether you have bought it before, you can upgrade your registry cleaner to the latest version for free! If you are looking for a comprehensive and stable registry cleanup tool, AthTek Registrycleaner is exact the one you should never miss!