January 10th, 2013  |  Development Center of AthTek Software
—————–
We have released a new update of Code to FlowChart Converter which has included new features for PHP programmers. All the users (including free trial users) can upgrade it right now to the latest version. It is one of our most popular software please feel free to download and try the free trial: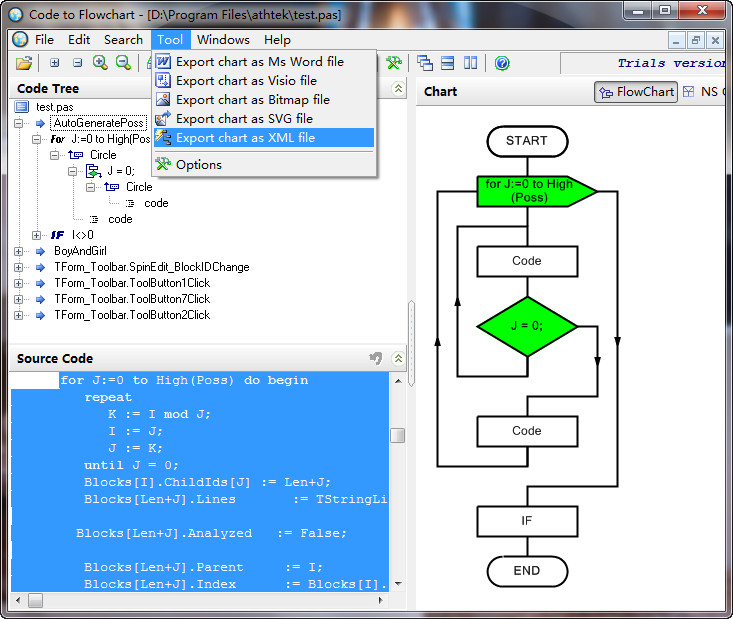 What's new?
Supports PHP code to flowchart or NS chart.
In the previous version, it can convert C/C++/VC++/Pascal/Delphi code to flowchart. After January 10th, 2013, it can also convert PHP code to flowchart or NS chart. This means you can not only use AthTek Code to FlowChart in PC software development, but also in web app development with PHP. If you want to create a web app for your website with PHP, Code to FlowChart Converter can help you to convert your PHP source code into elegant flowchart and print the flowchart for group review.
Code to FlowChart Converter is one of the most used programming tool for software engineers and technical document writers. It has the best conversion speed and most elegant graph designs. If you are looking for a programming tool which can help you to convert the whole project into a full flowchart, AthTek Code to FlowChart Converter would be the best choice for you.
Currently we have released another programming tool – AthTek Flowchart to Code. This is a senior software development tool which can create source code from flowchart. You will get most of the price off if you make Code to FlowChart and Flowchart to Code in the same order!