From former posts, we have known that AthTek is a very useful tool for IP, MAC scan, even if you have no knowledge of the network, you can also take over can be used directly without any difficulty, the software includes IP Scanner, MAC Scanner, and Ping Tester three components through which three components, you can easily manage your local network. And If you make ip-mac binding, as long as the user changes his ip can not get on the net, must be changed back to the original ip before they can access the Internet.
Way to override a LAN or several buildings, a school, or a small geographic area such as plant-wide computer network. AthTek IP-MAC Scanner is a free utility for LAN IP scanning tool, its user interface is very friendly, and it is also very simple to use, even if the user is no knowledge of the network, but also can easily use this tool to run the entire network there is a clear case management.
The tool also holds the scan results directly import or export, with such a large number of results about our scan. We will next introduce how to import the scan results.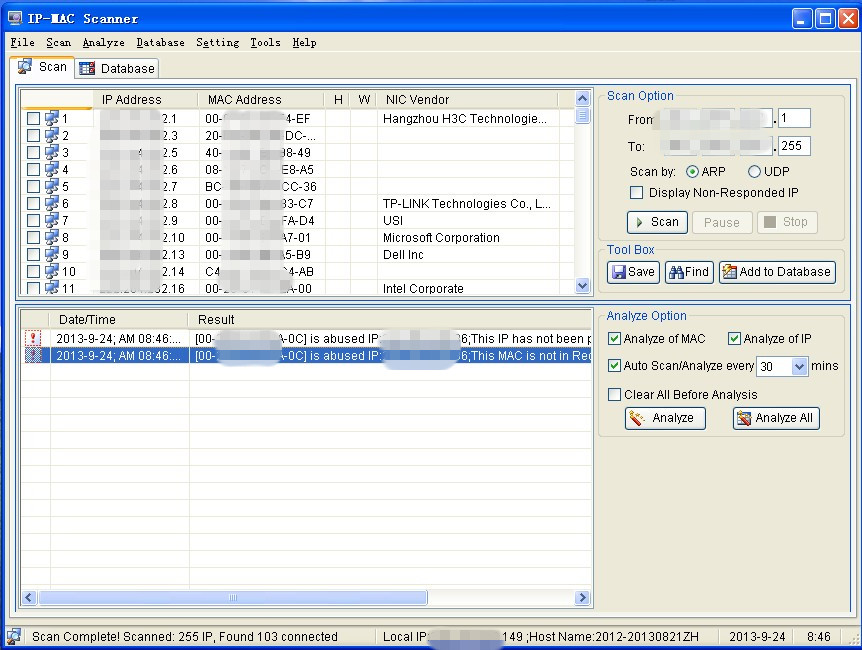 After you scan the whole LAN, you can click the "Analyze", and then find the path: Analyze-Save as-Txt file(*.txt), and then you will get the inported Txt file, such as:
IP Scanner can show all the computers connected to the LAN and a variety of devices (such as routers), you can also select IP range for accurate scanning. MAC Scanner allows you to scan all the devices connected to the LAN MAC address.