The previous special offer for AthTek NetWalk Enterprise Edition was expired on June 30,  and we have launched a new special offer for Code to FlowChart Converter in July. Anyone who buy the full version of this software product in July will get $80 OFF from the regular price $199. The discount will be calculated  automatically in the order for Code to FlowChart Converter. If you are going to purchase Code to FlowChart Converter for programming, this special offer is a sweet gift you should never miss!
Buy Code to FlowChart Converter with a $80 OFF Price!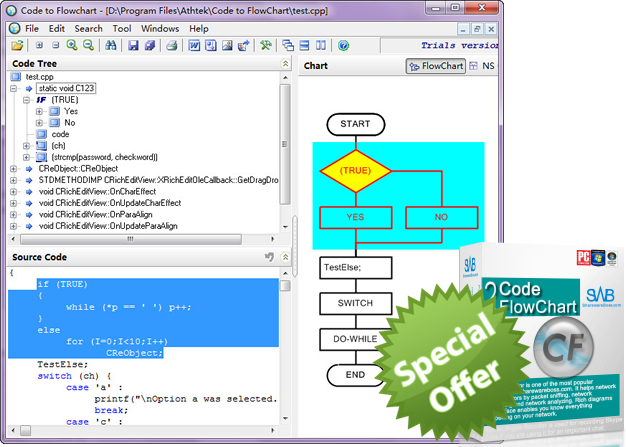 Code to FlowChart is an useful software product for software engineers and technical document writers. It can convert thousands of lines of source code into an integrated flowchart in seconds. It can also print out the flowchart effortlessly with one click. It supports multiple programming languages including C, C++, VC++, PHP, Pascal and Delphi. The flowchart is exportable to MS Word, VISIO, XML, Bitmap and SVG file formats. As a reliable flowchart tool for software engineers, Code to FlowChart Converter runs on tens of thousands of engineers' computers to help them in better programming.