New Website For AthTek Skype Recorder
Monthly Promotion: $10 OFF for Webcam Surveillance Monitor in May
The monthly promotion – Saving $20 on AthTek Keylogger – Computer Monitor will expire soon, and the new monthly promotion – 50% OFF For Skype Call Recorder is coming!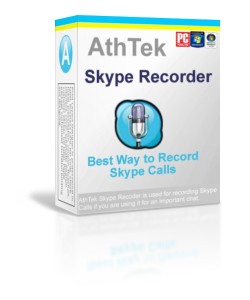 Everyone who buy the registration key of Skype Call Recorder in April, 2011, will enjoy the monthly promotion – 50% OFF for Skype Call Recorder! This Spring is the Skype Recorder time!

AthTek Skype Recorder is a popular Skype call recorder for recording high-quality Skype calls. The Skype call recorder can automatically record both side of your Skype call and save it as a high-quality audio file on your computer. It automatically connects to your Skype and record any Skype conversation. With the Skype Call recorder, you won't miss anything in the Skype Call. The record will be in great details, including the exact time, length, contacter, etc.
Never Miss An Important Skype Call
Audio Recording for Remote Meeting
Discounted Price of Webcam Surveillance Monitor Pro is Available in May
Previous and Next Monthly Promotions:
Special Offer For Easter Day
How to Get The Discount
Skype Call Recorder Has Been Updated To V4.1
Saving $20 on AthTek Keylogger – Computer Monitor
Save $299.00 On AthTek NetWalk Enterprise Edition