[PDF] January 11, 2014  |  Development Center of AthTek Software
————
We have released a new version of Skype Voice Changer which support auto notification to the contacts after a call. Besides that, the new version also supports compatible check. The new version is available on our official website now. All the users are allowed to download and install the new Skype Voice Changer for free. If you are looking for a prank call program for Skype, this will be exact the program for you!


What's New?
* Supports to send notification to contacts;
Skype Voice Changer v2.3 supports to send a notification to the contacts after a call as default. It will tell the contacts that you have used Skype Voice Changer in the call. You can customize the notification content in Record Setting Tab.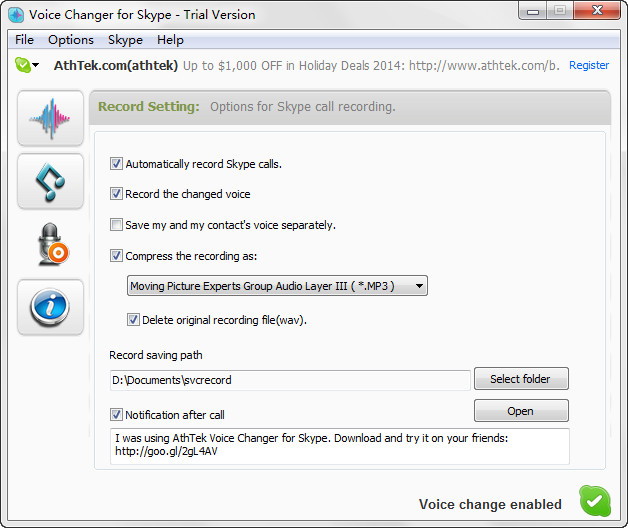 * Supports compatibility check.
As we have mentioned, Skype don't support voice changing since Skype v6.10. Skype Voice Changer v2.3 will support to check the compatibility with Skype. If you are using a latest version Skype, you will see a popup which asks you to download a compatible Skype version. You can send a feedback to Skype to ask them support voice changer software again in the future. If Skype can take your advice, we promise a compatible voice changer for the latest Skype version!