October 12, 2011, we have released the new website for Reinstall DirectX EZ – ReDirectX.com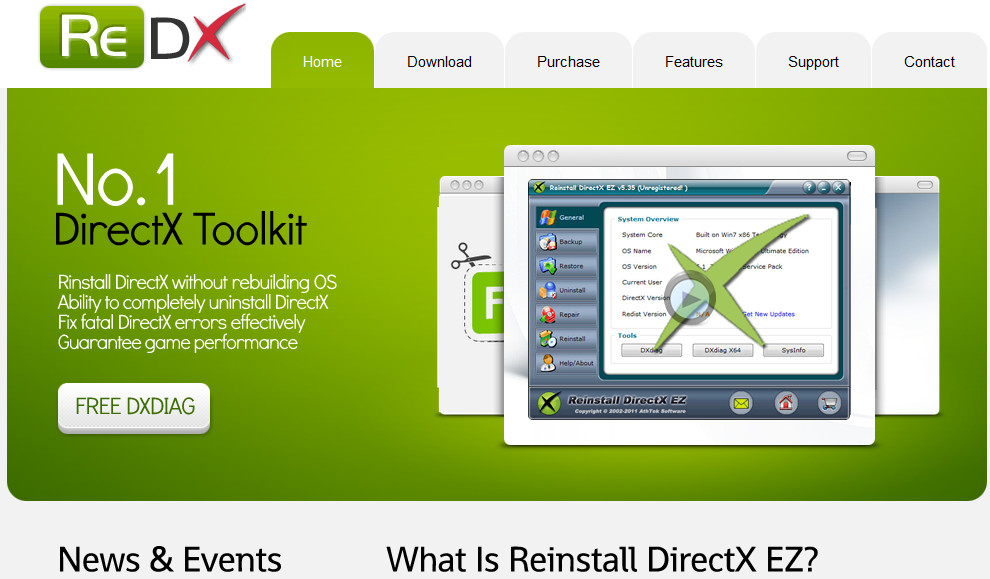 The new website redefined Reinstall DirectX EZ as DirectX Toolkit. It has a great look with 6 sub-page to help visitors know it, as well as free trial and buy it for lifetime use.
Home Page – here we listed the info summary of DirectX Toolkit and you can easily get access to any page of this site from home page.
Download Page – here you can free download the free trial of DirectX Toolkit. The package of the setup file is a little big, it will take you some time to fully download.
Purchase Page – here you can buy a registration key of DirectX Toolkit online. We use Avangate as the third party shopping cart and you will receive the registration key as soon as you finish the order.
Features Page – We listed the main features of DirectX Toolkit for you can quickly know what is the DirectX Toolkit and what it intends to do.
Support Page – You can find some frequently asked questions here.
Contact Page – if you have any question or suggestion, you can contact us directly. Simply fill your content here, our technical support will get in touch with you later.