Reinstall DirectX EZ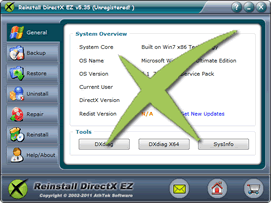 Reinstall DirectX EZ is developed to resolve fatal DirectX errors. It knows all what game lovers need, make all the DirectX solutions integrated into one toolkit. Any DirectX problem can be solved by using Reinstall DirectX EZ! Traditional way to solve fatal DirectX errors needs to reinstall the entire operating system. With Reinstall DirectX EZ, you don't need to waste time on system replacement any more. All tasks can be done within a few clicks.
Why I need to buy a Key?
* The trial version contains many limitations, and you need to register it for unlimited use;
* Since you buy the registration key, you could enjoy our free technical support for 24/7;
* You are allowed to freely update it even there is a major update or we have raised the price;
* Quality guarantee, we take great care of DirectX for registered uses.
Why Use Reinstall DirectX EZ
Enjoy the playtime:
To run a big 3d game smoothly, your computer needs a strong sound card, graphic card, CPU and network. Well, you've missed one point: a suitable DirectX! For a game lover, it's a nightmare if you enter the game world and the frustrating error message pops up from time to time, or the game can't proceed further after hitting start etc. These game failures are caused by DirectX errors. To solve them, you need to repair or reinstall DirectX so that your computer connects the hardware and software ideally in image expressing, sound, action and speed performance. Like we addressed before, the missing of important DirectX files make your game unplayable. Unlike the traditional methods of reinstalling the whole system, Reinstall DirectX offers alternatives to repairing DX with your original system disk and skips the troubles of the whole system reinstallation. After the DX fix, you will be able to experience the visual and audio feasts granted by the games perfectly!
Remove fatal DirectX errors:
Sometimes when we run some advanced games, higher version of DX is needed to meet the graphics, sound, video and other requirements of the game design. However, in some cases, DirectX update may come up with errors when you initialize the file. Common windows users will feel at loss with this kind of error. It's probably that the whole DX is corrupt and you have no idea which parts are missing or wrong. Don't worry. With Reinstall DirectX EZ, you can extract original DX data from your system disk and then update to suitable version from reliable Microsoft official websites. You don't need to waste time reinstalling the whole system, patching and installing software to fix DirectX update problems. With intelligent features, it'll save you both time and efforts to reinstall DirectX and obtain the appropriate version for games and other applications.
DirectX backward:
When we play some games, it's better and smoother to run in slightly lower DirectX version than the highest version due to the original game design. In some extreme occasions, the game won't run well unless your DX is lower like DX10 or DX9.0c. If you happen to have a Windows Vista or Windows 7 system updated to highest DX version recently and the game is developed in lower version (which is the case to a number of games), the game performance will likely be impacted and curbed. This is exactly when we need DirectX backward. To meet the compatible needs of certain games that you earn to play, we have to get a DirectX backward. Reinstall DirectX EZ offers a tool to securely and conveniently achieve this solution. After backing up your current DX of higher version in case you need a recovery, we can easily use the system disk to get the DirectX backward. Simply put, the tool helps you reinstall DirectX to original version easily and safely to run game better.
Features
Guarantee perfect game running

DirectX error is a common cause to game failure. The missing .dll files can lead to black screen, failure to further play or even client crash to gamers. Reinstall DirectX EZ helps to get right DX back for perfect game playtime!

Reinstall DirectX

DirectX is a crucial part to run multimedia software and games on windows platforms. The DirectX errors are fatally frustrating to game lovers when they got kicked from game. A DirectX repair can fix these problems.

Uninstall DirectX

When errors occur to DX, some users choose to uninstall the faulty DX and reinstall DirectX again. To do it in an absolutely clean and secure way without undermining system stability, a useful aid tool is indispensable.

DirectX diag

DirectX diag collects and displays DirectX data easily and offers graphic and sound acceleration settings accordingly. We can go through system, DirectX files, display, sound, music, input and network details easily to find out problems.

Fix DirectX errors

After DirectX diagnose, errors can be confirmed and targeted. To repair DirectX, Reinstall DirectX EZ offers a shortcut to extract original DirectX cab file without reinstalling the whole system!

Help with DirectX update

To fit your computer to some new games, it's required to upgrade DirectX to higher version. Reinstall DirectX EZ automatically detects your DirectX version and link suitable update from official Microsoft websites.

DirectX backward

Some games run more smoothly in relatively low version DirectX. DirectX backward can be safely and easily achieved with this tool. You can either restore the original DirectX file you saved or directly downgrade with your system disk.

Backup DirectX

As a crucial collection to link your computer with games, DirectX tweak and management should be done with caution. Reinstall DirectX EZ powerfully selects all DirectX components and backs them up into one cab file.

Restore DirectX

With backup cab file, you can easily restore the DirectX to the stored state any time. Switching between different DirectX versions can be realized with ease by restoring different backup cab files.

DirectX rollback

Whenever something happen to DirectX errors, rollback is always a solution. Reinstall DirectX EZ is a tool to help users roll DirectX back to the initial state simply with a system disc. The rollback is super fast and clean

Optimize DirectX

Highest module setting and latest DirectX version doesn't benefit every all computers. Sometimes a lower setting or version helps games run more smoothly with your hardware. Certain optimizations will bring edges to game play.

The ONLY DirectX tool

Reinstall DirectX EZ gives common users a wide range of DirectX management approaches including diagnose, backup, restore, repair and reinstall. So far it's the only secure tool to manage DirectX in all aspects and needs!
System Requirements
| | |
| --- | --- |
| OS | Windows 98/2000/2003/2008 (R2), XP (SP2 or later), Vista, Win7 and Win8 |
| Processor | 1GHz Intel/AMD processor or above |
| RAM | 256MB RAM (512MB or above recommended) |
| Free Hard Disk | 1GB space for installation |
| Graphics Card | Super VGA (800×600) resolution, 16-bit graphics card or higher |

Users' Review
Happened to a fatal directx error when playing game on my vista x64 system. Searched for the solutions to directx errors, but found nothing useful to me. Finally I found your reinstall directx ez, and I got all the directx problem solved! What I like it best, your program does not require to reinstall the operating system while the process of reparing directx ---------------- gamer from Great Britain
Tags
install DirectX, DirectX error, uninstall DirectX, DirectX diag, DirectX problem, fix DirectX, repair DirectX, control DirectX, DirectX rollback, revert DirectX, restore DirectX, install DirectX 9.0c, uninstall DX, guarantee game running, fatal DirectX error, install DirectX 11, install DX, DXdiag, DX error, fatal DX error, install DX 11, DX problem, fix DX, repair DX, control DX, DX rollback, revert DX, restore DX, reinstall DX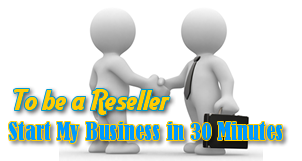 Related Applications
System backup and restore
AthTek Data Recovery supports to fast backup and restore your operating system, as well as important data.
AthTek RegistryCleaner
AthTek RegistryCleaner supports both x86 and x64 systems. It will perform better when used together with Reinstall DirectX