December 31, 2011   Development Center of AthTek Software
————–
We are going to release a new version of AthTek Skype Recorder, with many new features included!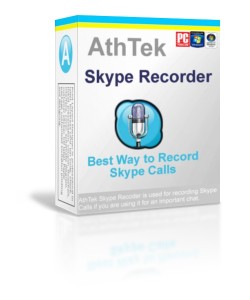 Many of our Skype Recorder users had told me that, your Skype Recorder has the best Skype recording quality, but why don't you think about record Skype video chat? That was really a good idea to us and we have already been preparing a Skype Video Recorder for months. Now I have the beta version on my desktop, it looks really great! With this new version of Skype Recorder, you can not only record Skype voice, but also record Skype video in an active call!
In order to get rid of the price change, I recommend you to purchase the current version of Skype Recorder before January 5, 2012 in our Christmas Special Offer. You can get 30% off discount from the Christmas Special Offer which will be expired on January 5. Most of all, we won't charge any handling free from our existing users who want to upgrade the Skype Voice Recorder to Skype Video Recorder even the price has been changing!