June 15, 2011 – Development Center of AthTek Software
———————-
AthTek Skype Recorder has been updated to V4.2!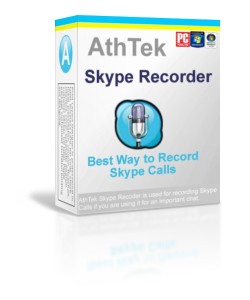 In the new released version, AthTek Skype Recorder add a lot of functions to itself.
1. Add new language – Japanese. As many of our customers are from Japan, we include Japanese into AthTek Skype Recorder. Maybe there were still many misspelled words existing in this program, but still can help Japanese users to record Skype calls with it.
2. Support offline recording. As we all know that AthTek Skype Recorder is good at online calls recording. And we still think about the offline recording function, maybe it will be helpful to some of our users. With this function, you can record any sound (line in) through your computer. That means, AthTek Skype Recorder can not only record Skype calls, but also record sound by the micphone.
3. Support new audio format ogg and flac. AthTek Skype Recorder supports to record Skype calls in Mp3 and WAV format, and in AthTek Skype Recorder V4.2, it can also supports ogg and flac format. This will help a lot in different recording purposes.
4. Support to separately save recordings of the 2 side in a Skype call. In the previous version of Skype Recorder, all the voices in a Skype conversation will be saved into a single file. Until AthTek Skype Recorder V4.2 has been released, you can make the voice of each side in the conversation be saved to sepatated audio file. Voices won't be messed up any more, you can easily get every single voice by the new AthTek Skype Recorder.
5. Support to export recording of any date. In the previous version, AthTek Skype Recorder can only export single recording from the history list. After V4.2 has been released, it supports to sort all the recordings by date, and you are able to export all the recordings on a specified date.
6. Enhanced recording quality. We are good at recording quality, and we will not stop pursuing on this. In the new AthTek Skype Recorder, we make some nessary change on recording quality, make it real and nature.
7. Support drag-and-drop. In the new Skype Recorder, it supports to drag and drop the recordings to media player or explorer. It can be used as a backup file or shortcut to play the recordings. Maybe useful in some conditions.
Take Audio Notes For Online Conversations
Never Miss An Important Skype Call
AthTek NetWalk V2.0 Has Been Released
AthTek Skype Recorder Lite Version is Coming