Today I have brought a great news: our network scanning tool IP – MAC Scanner will be available from Giveawayoftheday.com for free! This special offer will start on November 09, 2012 from 0:00 to 24:00  UTC -8. Anyone who download AthTek IP – MAC Scanner from Giveawayoftheday.com during the special offer will get a registration code for free!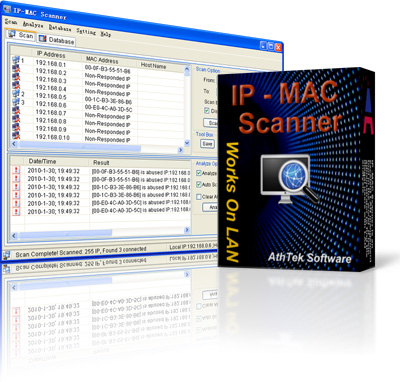 AthTek IP – MAC Scanner is a smart network scanning program for small business and home use. It can fast detect all the connected IP/MAC addresses over your network and match them to the MAC/IP addresses. It can also add the scanning results to record for future reference. If there were suspicious connections on your network, the suspicious ones would be listed in the analysis result.
If you are looking for a comprehensive and senior network management tool, you should view AthTek NetWalk. It is in special offer ($200 OFF) too in November. But if you are looking for a smart network tool for quick use, you should try AthTek IP – MAC Scanner. As the only MAC Scanner, this program has been adopted by many companies and administrators, such as Sony, Dell, etc. If you are looking for an intelligent networking tool for your company or home network, this is the exact tool you should never miss. The special offer will only be offered for 24 hours. Please don't lose the only chance to get AthTek IP – MAC Scanner for free!