Monthly Promotion in June: 55% OFF for IP – MAC Scanner
The monthly promotion of Video Surveillance Monitor is going to expire in the end of May, 2011. In the next month of June, IP – MAC Scanner will be available for monthly promotion with an unbelievable low price!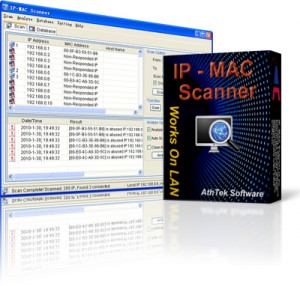 AthTek IP – MAC Scanner provides IP scanner and MAC scanner to help you get the connection details freely. It also provides a ping tool for testing the access to network. The scanned IP or MAC can be analyzed by AthTek IP – MAC Scanner, to track the illegal users. Remote control functions enable you to wake up, shutdown and send messages to another computer on LAN.
Anyone who wants to get a free registration code of AthTek IP – MAC Scanner, please forward this post to your blog, FaceBook or Twitter, then send the link of your post to pr@athtek.com. After your link has been approved, we will send you a registration code for free! Please hurry, we only provide the free registration code for the last few days in May!
IP – MAC Scanner – Best IP and MAC scanner for network management
Track Illegal Clients On LAN – Business and Office Solution
Monthly Promotion: AthTek RegistryCleaner Will Be Available in July