AthTek NetWalk V2.0 Has Been Released
AthTek NetWalk has just finished its monthly promotion in February, 2011.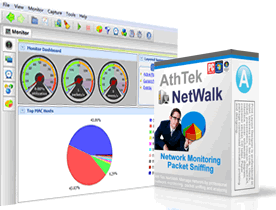 In the past February AthTek NetWalk has created a great value for both users and us. We have made friends with many administrators all over the world through AthTek NetWalk. For thanks to our lovely customers, we decide to reduce the previous price of AthTek NetWalk from $499 to $299. We hope more and more administrators can benefit from AthTek NetWalk, and we will work together to make AthTek NetWalk better and better. Everyone who has purchased AthTek NetWalk at $499, will get a $200 money back in March, 2011. The only thing we need you to do, is to give some suggestions to us, on how to make it more helpful to your network management. We highly value your suggestions, and will take them into effect in the following updatings. Of course, the updating service for AthTek NetWalk will be totally free for you!
Thank you!
Related Resource:
How To Limit Peet to Peer File Sharing
AthTek NetWalk – Top Network Monitoring Software For Administrators – AthTek.com
Monthly Promotion: Save $299.00 On AthTek NetWalk Enterprise Edition
News of AthTek NetWalk