Reinstall DirectX EZ - Solve DirectX Problem Without Reinstalling OS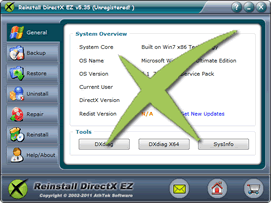 Multimedia applications including video audio functions rely greatly on DirectX, the key link between video card, sound card, other hardware and software. It's almost impossible that no DirectX problem will occur considering the complexity and compatibility of various DX versions. When DirectX problem happens, applications especially games can't function well or cease to work completely. This is a nightmare to game lovers. Therefore not a single DirectX problem can be overlooked on windows systems.
Reinstall DirectX EZ is a powerful shareware to diagnose and solve DirectX problem without the trouble of system reinstallation. With the registered tool, users can roll back by extracting file on system disc and find available updates very conveniently. No DirectX problem can survive with this tool in your system!
Available tactics against DirectX problem
DirectX Diagnostic

However suspicious you find DirectX in case of game errors, a DXdiag is indispensable before you come to a conclusion. Reinstall DirectX EZ integrates DXdiag tools in its general tab for a quick check. You can hit DXdiag or DXdiag X64 respectfully on 32-bit and 64-bit systems. More conveniently, the updates from official Microsoft website are wisely selected and provided according to your current DX version. Really sweet function, isn't it?

Solve Fatal DirectX Problem

The diagnosis confirms that it is DirectX problem that led to your game errors. Let's spare not time to get rid of it! Here's a secure tactic for all windows users. We will travel back to the moment when system was just installed! To roll back DirectX to initial version, a system disk and registered Reinstall DirectX EZ are needed. Please note the network should be off when the repair process is ongoing.

Reinstall DirectX

After repairing, your computer should be without DirectX problem. However, it's still not perfect to meet the requirements of some new games. Fortunately, this isn't a problem at all if you are a registered user of Reinstall DirectX EZ. You can update to 11.x without any extra steps if the system is running Windows 2008 or vista. For other systems, the tool can easily direct you to available updates on Microsoft website and you can go on update later.


DirectX backup

Content and glad to get rid of DirectX problem? Congratulations! But if you want to save more time in repairing, here's one last step to follow. Back up the current DX so that you can easily retrieve the trouble-free DirectX at any time.


DirectX restore

If you are clever enough to listen to the suggestions in last step, DirectX problem is not a big deal when it happens again. Just load up your Reinstall DirectX EZ and locate the latest DirectX backup file which has been functioning, it won't be long before the DX is completely recovered to that moment.

If you still feel hard to solve DirectX problem, please view how to use.

Users' Review
Happened to a fatal directx error when playing game on my vista x64 system. Searched for the solutions to directx errors, but found nothing useful to me. Finally I found your reinstall directx ez, and I got all the directx problem solved! What I like it best, your program does not require to reinstall the operating system while the process of reparing directx ---------------- gamer from Great Britain
Tags
install DirectX, DirectX error, uninstall DirectX, DirectX diag, DirectX problem, fix DirectX, repair DirectX, control DirectX, DirectX rollback, revert DirectX, restore DirectX, install DirectX 9.0c, uninstall DX, guarantee game running, fatal DirectX error, install DirectX 11, install DX, DXdiag, DX error, fatal DX error, install DX 11, DX problem, fix DX, repair DX, control DX, DX rollback, revert DX, restore DX, reinstall DX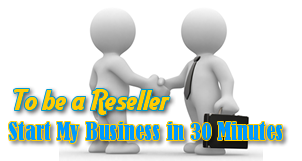 Related Applications
System backup and restore
AthTek Data Recovery supports to fast backup and restore your operating system, as well as important data.
AthTek RegistryCleaner
AthTek RegistryCleaner supports both x86 and x64 systems. It is the best registry clieanup tool for Windows users, and it can help gamers to solve any fatal DirectX problem.