Reinstall DirectX EZ - Completely Repair DirectX Errors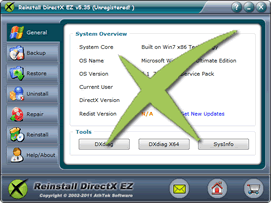 Functioning as a bridge linking video card, sound card etc and multimedia applications, DirectX is crucial to game lovers. If problems occur to this data, games can't run normally. We need to repair DirectX either on condition of missing dll file or DX version incompatibility. To repair DirectX, we offer a more convenient method of system disc rollback with Reinstall DirectX EZ. The tool enables registered users to retrieve DXsetup file directly to repair DirectX errors without system reinstallation.
Besides original DX recovery, we can repair DirectX by recovering to a specific restore point. To repair DirectX with this method, a backup file containing the functioning DirectX is required. We are sure you can find your ideal ways to repair DirectX with Reinstall DirectX EZ!
Steps to repair DirectX errors
First step: diagnose DirectX

Your games are harassed with weird errors like failure to load successfully, black screen or errors messages of missing dll files. In most cases, they are connected with DX glitches. However, the first task to finish before fixing DX is always a diagnosis. The general tab of this tool presents you easy access to DXdiag application to check DX status. Moreover, the tool provides available updates of your current DX to you. It saves your time and efforts to get professional directions.

Second step: repair DirectX errors

Since we've come to the conclusion that it was DX that caused game errors, let's repair DirectX right now! Remember to cut your network off before inserting the system disk. Locate the DXsetup.exe file and the tools will automatically extract and replace the original file with your current faulty one.

Third step: update DirectX

The DirectX has been rolled back to repair DirectX errors. However, as many recent games require higher versions to go with the games' requirements. To windows 2008 and vista users, the update will be only a click of the button due to the embedded database from 10 to 11.x. The other system users can get update files from general interface and follow up to update DX.


Fourth step: backup DirectX

Congratulations! Your DirectX is updated and without any error now. It seems you've done all you can to repair DirectX errors. And you are so relieved to this. Here's another step to take before closing off Reinstall DirectX EZ! We strongly recommend you to make a backup file of this perfect DX for future quick restoration.


Ultimate trick: restore DirectX

It has been some time before you succeeded to repair DirectX errors. The symptoms of DirectX problems are appearing again. It's not a big deal if you have the backup file on your computer! Load Reinstall DirectX EZ and use the restore feature to completely recover DirectX to that perfect status. The magical time traveling will take you no more than a minute or two.

If you still feel hard to repair DirectX errors, please view how to use.

Users' Review
Happened to a fatal directx error when playing game on my vista x64 system. Searched for the solutions to directx errors, but found nothing useful to me. Finally I found your reinstall directx ez, and I got all the directx problem solved! What I like it best, your program does not require to reinstall the operating system while the process of reparing directx ---------------- gamer from Great Britain
Tags
install DirectX, DirectX error, uninstall DirectX, DirectX diag, DirectX problem, fix DirectX, repair DirectX, control DirectX, DirectX rollback, revert DirectX, restore DirectX, install DirectX 9.0c, uninstall DX, guarantee game running, fatal DirectX error, install DirectX 11, install DX, DXdiag, DX error, fatal DX error, install DX 11, DX problem, fix DX, repair DX, control DX, DX rollback, revert DX, restore DX, reinstall DX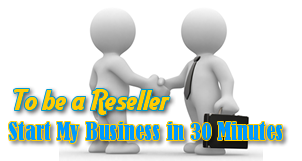 Related Applications
System backup and restore
AthTek Data Recovery supports to fast backup and restore your operating system, as well as important data.
AthTek RegistryCleaner
AthTek RegistryCleaner supports both x86 and x64 systems. It is the best registry clieanup tool for Windows users, and it can help users to repair DirectX errors.