Reinstall DirectX EZ - Help to Control DX Easily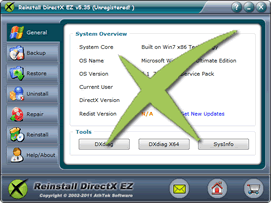 DirectX, like its name implies, directly links computer hardware with various multimedia features including graphics, sound and animation etc. Game manias are supposed to be able to control DX with will due to the immediate game-DirectX relationship. To control DX and uninstall, reinstall, revert, upgrade DirectX files, there's no need to immerse you with abstruse DX knowledge with this tool named Reinstall DirectX EZ. You will find yourself a master to control DX!
Registered users may roll back DX to default version with a system disk fast and securely. The shareware offers some useful tools to diagnose, backup, and restore DirectX so as to help control DX. However, it's strongly recommended that you activate this application so as to gain complete methods to control DX for a life time span access.
How to be a master to control DX?
DXdiag

There are some tests awaiting you on the path of mastering DX control. First, you need to know what enemies you are dealing with who've impacted your gaming experience. Let DXdiag help you trace them down. The better you know about your rivals, the faster you will knock them down.

Remove DX Errors

Great, you know you are tackling dll void and DX incompatibility. Now let's get down solving them so as to control DX. With a system disk and disabled network, you can easily find DXsetup.exe on the disk to realize DX recovery in no time. After this procedure, the missing dll files should be gone.

Reinstall DX

As the saying goes strike while the iron is hot. Let's upgrade the outdated DirectX to suitable version so as to further control DX. Windows 2008 and vista users can benefit the convenience this tool offers and increase DX version to 11 without extra updates. Nevertheless, other system clients won't spend much time in getting official updates suggested on general interface as well. With an updated DX, you are one step closer to a DirectX master.


Backup DX

You've proved yourself competent by a complete DX optimization. We'd like you learn one extra skill to control DX still to add your strengths. Backing up a sound DirectX will be a secret weapon to you at next DX crisis, my apprentice.


Restore DX

New DX chaos just broke out. It's the final test for you to be a control DX master. This time, you have to fix the DirectX without a system disk and other updates in three minutes. Relax. We have backed up a clean and upgraded DirectX before, right? Restore that backup file and you can pass the test with ease. Congratulations! You've passed all tests and here is the reward for you. Take this DX fix master badge and keep what you learned in mind. No more DirectX can harass and hazard your games anymore!

If you still feel hard to control DX, please view how to use.

Users' Review
Happened to a fatal directx error when playing game on my vista x64 system. Searched for the solutions to directx errors, but found nothing useful to me. Finally I found your reinstall directx ez, and I got all the directx problem solved! What I like it best, your program does not require to reinstall the operating system while the process of reparing directx ---------------- gamer from Great Britain
Tags
install DirectX, DirectX error, uninstall DirectX, DirectX diag, DirectX problem, fix DirectX, repair DirectX, control DirectX, DirectX rollback, revert DirectX, restore DirectX, install DirectX 9.0c, uninstall DX, guarantee game running, fatal DirectX error, install DirectX 11, install DX, DXdiag, DX error, fatal DX error, install DX 11, DX problem, fix DX, repair DX, control DX, DX rollback, revert DX, restore DX, reinstall DX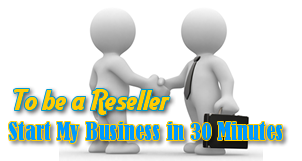 Related Applications
System backup and restore
AthTek Data Recovery supports to fast backup and restore your operating system, as well as important data.
AthTek RegistryCleaner
AthTek RegistryCleaner supports both x86 and x64 systems. It is the best registry clieanup tool for Windows users, and it can help users to control DX in game.