Reinstall DirectX EZ - Repair Fatal DX Error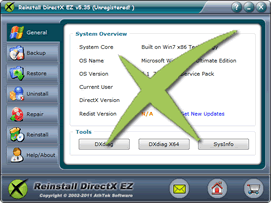 Multimedia applications rely drastically on the combined work of hardware and system data. Sound, image, animation are guaranteed by a clean and proper DirectX. If any fatal DX error occurs, your computer will probably suffer black screen, game loading failure or graphics glitch etc. To eliminate these troubles, it's a must to clear the fatal DX error to maintain normal computer functions. A system reinstallation helps to get rid of fatal DX error but takes hours to complete the whole process.
An innovative method is now available to kick fatal DX error out of your system! Reinstall DirectX EZ offers a convenient way to roll DX back to system initial state without changing other system files to registered users. No more fatal DX error can hide and undermine your pc with it on your computer.
About Fatal DX Error Repair
How to confirm a fatal DX error?

You are trapped in black screen, loading problems whenever you try to enter the game. Any clue how this could happen? A fatal DX error probably is the cause. To be completely sure, let's run a DXdiag quickly to see if there's any file missing from DirectX.

Eliminate the fatal DX error

After the DX diagnosis, let's start fixing all the DX errors. The tool offers a safe and quick way to revert to initial DX content with only the system disk. You just need to bear in mind to turn off the network during the DirectX rollback process.

Reinstall DX

Now there's no fatal DX error on your computer. But it's too early to ease down. The recently released games do require comparatively higher version of DX. That's why we got to level up the DirectX to designated version. Windows 2008 and vista users can easily upgrade to DX 11 without extra updates while the other systems need to gain Microsoft official patches to complete the optimization.


Want a shortcut of DX?

You've just completed a DX fix and there's no fatal DX error lying in your computer anymore. But things change and you can't know when another repair is needed. Here we'd like to recommend you to back up the current DirectX for future use.


Repair any fatal DX error by DX Restore

Your games are caught up with fatal DX error again, but you won't need to worry at all with the powerful backup file. The restore feature of Reinstall DirectX EZ enables you to retrieve the preserved dll files completely in no less than three minutes. A rather quick way to fix the errors, isn't it?

If you still feel hard to repair fatal DX error, please view how to use.

Users' Review
Happened to a fatal directx error when playing game on my vista x64 system. Searched for the solutions to directx errors, but found nothing useful to me. Finally I found your reinstall directx ez, and I got all the directx problem solved! What I like it best, your program does not require to reinstall the operating system while the process of reparing directx ---------------- gamer from Great Britain
Tags
install DirectX, DirectX error, uninstall DirectX, DirectX diag, DirectX problem, fix DirectX, repair DirectX, control DirectX, DirectX rollback, revert DirectX, restore DirectX, install DirectX 9.0c, uninstall DX, guarantee game running, fatal DirectX error, install DirectX 11, install DX, DXdiag, DX error, fatal DX error, install DX 11, DX problem, fix DX, repair DX, control DX, DX rollback, revert DX, restore DX, reinstall DX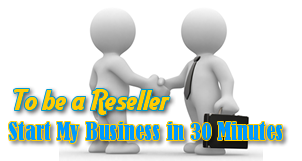 Related Applications
System backup and restore
AthTek Data Recovery supports to fast backup and restore your operating system, as well as important data.
AthTek RegistryCleaner
AthTek RegistryCleaner supports both x86 and x64 systems. It is the best registry clieanup tool for Windows users, and it can help users to repair fatal DX error.