Reinstall DirectX EZ - Easy Way to Reinstall DX to the Computer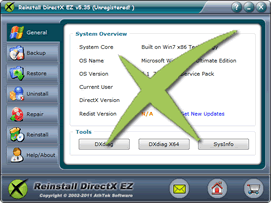 Multimedia applications are closely related to hardware like sound card, graphics card etc and a computer part called DirectX. The complicity and variety of existing DX data makes it unavoidable to reinstall DX to remove errors and get suitable version. Other than the traditional way to reinstall DX by reinstalling the whole system, you can have an advanced way to fix DX fast and securely. The registered users of Reinstall DirectX EZ can easily reinstall DX merely with a system disc.
The tool helps you replace the whole DX data with the system default one and saves you valuable time and efforts from resetting other essential software. In this way, all users can reinstall DX pretty fast and professionally regardless DX knowledge. Want to be a master to reinstall DX? Activate this tool right now!
Advantages of Reinstall DirectX EZ
Pro 1: easily know DX status

You are fed up with the error messages erupting while you load the games. So you decide to reinstall DX with the tool. Let's have a scan on your DX status first. This can be easily achieved with the in-built DXdiag tool on general interface. Also you will have access to suitable DX updates easily here. After the DirectX analysis, you can be ensured to reinstall DX step by step.

Pro 2: system-based way to reinstall DX

Most people would frown at the idea of reinstallation. However, this tool offers completely easy way to retrieve the initial DX from system disk with a simple loading and clicking. You just need to keep the network disabled during the rollback. It won't take you a long time. Don't worry. Two minutes' isolation from the Internet won't do you any harm.

Pro 3: easy reinstall DX to latest version

Yes! You've just completed to reinstall DX to default state. If you were the DirectX, you must feel clean and refreshed without any dirt. However, it's not enough to be just clean, do you agree? You have to get ready for the great party the game can offer. So it's time you upgrade the DX to recent version for better gaming experience. You will find a way to upgrade either with the embedded data or with external updates in a moment!


Pro 4: handy backup to reinstall DX next time

You can enjoy the games without obstacles for the time being. Think twice before shutting down the tool. Want to prolong the protection and guarantee of a perfect DirectX? Here's the way out. Make a backup file of the current optimized DX, it will be of great help when problems occur.


Pro 5: convenient restoration to reinstall DX

To have a backup file is like to have an omnipotent martial art master protecting you by your side. Now the DX enemies have invaded you, but he will turn the DirectX base back to the old perfect one. Load up backup cab weapon, and he will recover the DirectX to error-free mode. Having witnessed the several advantages of Reinstall DirectX EZ, are you excited to reinstall DX with it? Here's a last tip for you, the most useful pro 2 and pro 3 are only available to registered users. So it's recommended you activate the tool for life long use.

If you still feel hard to reinstall DX, please view how to use.

Users' Review
Happened to a fatal directx error when playing game on my vista x64 system. Searched for the solutions to directx errors, but found nothing useful to me. Finally I found your reinstall directx ez, and I got all the directx problem solved! What I like it best, your program does not require to reinstall the operating system while the process of reparing directx ---------------- gamer from Great Britain
Tags
install DirectX, DirectX error, uninstall DirectX, DirectX diag, DirectX problem, fix DirectX, repair DirectX, control DirectX, DirectX rollback, revert DirectX, restore DirectX, install DirectX 9.0c, uninstall DX, guarantee game running, fatal DirectX error, install DirectX 11, install DX, DXdiag, DX error, fatal DX error, install DX 11, DX problem, fix DX, repair DX, control DX, DX rollback, revert DX, restore DX, reinstall DX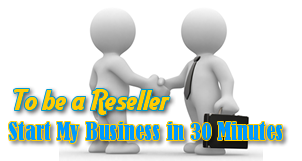 Related Applications
System backup and restore
AthTek Data Recovery supports to fast backup and restore your operating system, as well as important data.
AthTek RegistryCleaner
AthTek RegistryCleaner supports both x86 and x64 systems. It is the best registry clieanup tool for Windows users, and it can help users to reinstall DX.