Reinstall DirectX EZ - Strongly install DX Updates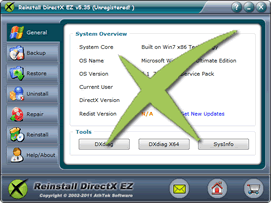 As an important part in windows system to assure graphics, sound, animation running well, DirectX is indispensable to game fans. Any tiny DX error or incompatibility leads to game errors like black screen, loading failure etc. It's demanded to install DX again so as to fix all these problems. Traditionally, to install DX means a complete system reinstallation and countless software resetting afterwards. Reinstall DirectX EZ provides multiple ways to install DX updates by system rollback, update files, backup and restoration.
We strongly suggest you to activate this tool so that you can install DX just with a system disk and leave the rest system data intact. In this way, it only takes you a brief moment to install DX properly for gaming requirements. You shouldn't miss this useful tool as a frantic gamer!
How to Strongly Install DX Updates
Before you can install DX updates

Before you begin to install DX updates, it's obligatory that you scan DX files for problem confirmation. Reinstall DirectX EZ fuses DXdiag tools and automatic update offering into its general interface. Neither dll error nor DirectX update can hide with this feature.

Repair DX Errors

Hit it with system rollback! The activated tool endows you with a simple DX recovery feature which you are keen to getting for a long time. No more troubles in reinstalling the system and applications. Just put the system disc in CD-ROM, cut off your network and extract the DXsetup.exe. Your DirectX will be born as a new child pretty soon.

Strongly install DX updates

Alright, with a newly recovered "old" DirectX, we'd better update it a bit so as to install DX updates to a suitable version. It's pretty easy to update DX to 11 for windows 2008 and vista players thanks to the inbuilt update file in this tool. To other system clients, the updating won't be hard either because you just need to get all those available updates listed in general interface.


Backup DX for easy reversion

Looks like all problems are gone now. However, we can still take an extra step before turning off this tool. Make a backup file of the current DirectX; it will be of great use when you need to install DX again next time.


Install DX updates with a backup file

You are faced with another DX crisis. With the extra step you made in last fix, here's a quite easy way to fix the DirectX. Use the reinstall feature to locate the backup file you want to retrieve, and your DX will time travel to the backup file creating time! In this way, you can save even more time from system rollback and updating.

If you still feel hard to install DX updates completely, please view how to use.

Users' Review
Happened to a fatal directx error when playing game on my vista x64 system. Searched for the solutions to directx errors, but found nothing useful to me. Finally I found your reinstall directx ez, and I got all the directx problem solved! What I like it best, your program does not require to reinstall the operating system while the process of reparing directx ---------------- gamer from Great Britain
Tags
install DirectX, DirectX error, uninstall DirectX, DirectX diag, DirectX problem, fix DirectX, repair DirectX, control DirectX, DirectX rollback, revert DirectX, restore DirectX, install DirectX 9.0c, uninstall DX, guarantee game running, fatal DirectX error, install DirectX 11, install DX, DXdiag, DX error, fatal DX error, install DX 11, DX problem, fix DX, repair DX, control DX, DX rollback, revert DX, restore DX, reinstall DX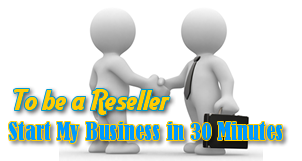 Related Applications
System backup and restore
AthTek Data Recovery supports to fast backup and restore your operating system, as well as important data.
AthTek RegistryCleaner
AthTek RegistryCleaner supports both x86 and x64 systems. It is the best registry clieanup tool for Windows users, and it can help users to install DX updates easily.