Reinstall DirectX EZ - Fix Fatal DirectX Error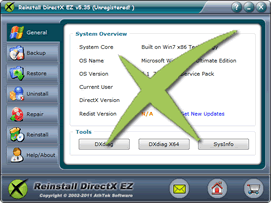 Linking hardware including video card, sound card etc and multimedia applications together, DirectX is a key part of system to guarantee the perfect performance of games. Any fatal DirectX error is a nightmare to game lovers because they draw black screen, loading failure to and other nuisances. To repair fatal DirectX error, it's required to roll back DX for safety concern. Unlike the orthodox method of system reinstallation, Reinstall DirectX EZ shows a shortcut to reinstall DX and fix fatal DirectX error simply with a system disc.
Registered users can enjoy the system disk recovery feature for good while the shareware clients have only 30 backup and restore purview. Activate this tool so as to gain advantage of clearing fatal DirectX error by disc-based rollback. No fatal DirectX error can remain with it!
How to Fix Fatal DirectX Error
Is there any fatal DirectX error on my computer?

This is a common question when your games aren't running so well. To answer this, let's load up Reinstall DirectX EZ and go to general interface. You can easily get the result by using DXdiag or DXdiag X64 on 32-bit and 64-bit systems. Also on this interface, you can get available updates from Microsoft websites from intelligent automatic analysis. This will save your time and efforts required in searching for suitable updates.

How can I clear this fatal DirectX error away?

Now we've come to the conclusion that certain fatal DirectX error is the direct cause to your game glitches. You are suggested to make a complete DX rollback as the most secure way to fix problems. This process is extremely easy and secure with the repair feature of the registered tool. You just need to keep the network off and insert the system disk for DXsetup.exe file extraction purpose. The rollback won't take more than two minutes.

Further optimize your DX

Alright, you've just succeeded to remove the fatal DirectX error. However, an original version is far from enough if you seek better gaming experience. Here you can conveniently update DX to latest version by pressing Next button. To windows 2008 and vista users, the update can be achieved just in this reinstall interface. Other system clients may find suitable updates from general interface and apply them after downloading.


Prepare yourself for next fatal DirectX error

It seems you have done all you can do to repair and optimize DirectX. Wait a second, you've omitted one crucial point-backup! Finishing this step will give you advantage of a super fast fix instead all those procedures from the very beginning. Just make sure you have enough space on your system directory before hitting the start button.


Super fast fix to fatal DirectX error

This is what we referred just now as a fast fix. With a backup file of the clean and updated DirectX, you can easily time travel to the restore point so as to get rid of those annoying errors. The whole DX database will be replaced with the old one without changing other parts of the system.

If you still feel hard to fix fatal DirectX error, please view how to use.

Users' Review
Happened to a fatal directx error when playing game on my vista x64 system. Searched for the solutions to directx errors, but found nothing useful to me. Finally I found your reinstall directx ez, and I got all the directx problem solved! What I like it best, your program does not require to reinstall the operating system while the process of reparing directx ---------------- gamer from Great Britain
Tags
install DirectX, DirectX error, uninstall DirectX, DirectX diag, DirectX problem, fix DirectX, repair DirectX, control DirectX, DirectX rollback, revert DirectX, restore DirectX, install DirectX 9.0c, uninstall DX, guarantee game running, fatal DirectX error, install DirectX 11, install DX, DXdiag, DX error, fatal DX error, install DX 11, DX problem, fix DX, repair DX, control DX, DX rollback, revert DX, restore DX, reinstall DX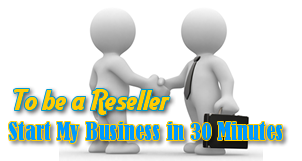 Related Applications
System backup and restore
AthTek Data Recovery supports to fast backup and restore your operating system, as well as important data.
AthTek RegistryCleaner
AthTek RegistryCleaner supports both x86 and x64 systems. It is the best registry clieanup tool for Windows users, and it can help users to fix fatal DirectX error.