Reinstall DirectX EZ - Easily Fix DX Error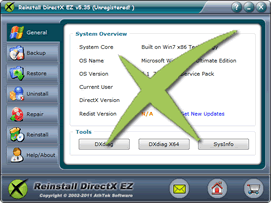 Windows systems rely largely on DirectX to perform multimedia tasks well in graphics, sound, animation and other aspects. Complicated as it is, DX error is likely to happen from time to time and undermine your gaming experience. To get away with DX error, it's better to reinstall your DX. Reinstall DirectX EZ offers a simple way to remove DX error without system reinstallation. The system disc and the tool make a super help to give you a DX error free system.
DX error is like virus to your computer, eroding and harming your game running. To eradiate this illness for good, the most secure way is reinstalling DirectX from initial version to the required version. Reinstall DirectX EZ endows registered users with the system disk rollback feature which saves you much time and efforts. No DX error can survive with it!
Steps to remove DX error
Diagnose DX error

First of all, you should have a thorough diagnosis through the DX files. The general interface assembles DXdiag and DXdiag X64 respectfully for 32-bit and 64-bit users. You can easily check the DirectX to confirm errors. Moreover, the tool automatically analyzes your DirectX version and gives potential updates from the blue get new updates link.

Remove DX Error

Since it is completely clear that it's certain DX error that's been causing your game issues, let's get rid of it now. Put your system disk into the CD-ROM and then disable the network for some time. Then press next button to locate the DXsetup.exe and extract the whole database onto your computer.

Reinstall DX

After system recovery, there's no way any DX error will remain. However, if you want to match your games with a more suitable DirectX, you can't skip the updating step. Luckily, to window 2008 and vista players, the update can be accomplished merely by using the inbuilt v10-v11 patch with this tool. To other system users, the process won't be too hard as well thanks to the link offered on general interface.


DX backup

Good job in clearing away DX error and getting a clean and updated DirectX! However, this isn't enough if you want to be a DX control master. With a backup file, you will be able to rewind to this restore point at any time directly. And this panacea just takes you a minute or two.


Retrieve backup file

With a backup file of a functioning DirectX, there's nothing to worry in the face of DX error anymore. Just load up the tool and let restore feature helps you settle everything down. Find the backup file you want to retrieve and hit restore button. Your DirectX will be the same as the old one in no time!

If you still feel hard to remove DX error, please view how to use.

Users' Review
Happened to a fatal directx error when playing game on my vista x64 system. Searched for the solutions to directx errors, but found nothing useful to me. Finally I found your reinstall directx ez, and I got all the directx problem solved! What I like it best, your program does not require to reinstall the operating system while the process of reparing directx ---------------- gamer from Great Britain
Tags
install DirectX, DirectX error, uninstall DirectX, DirectX diag, DirectX problem, fix DirectX, repair DirectX, control DirectX, DirectX rollback, revert DirectX, restore DirectX, install DirectX 9.0c, uninstall DX, guarantee game running, fatal DirectX error, install DirectX 11, install DX, DXdiag, DX error, fatal DX error, install DX 11, DX problem, fix DX, repair DX, control DX, DX rollback, revert DX, restore DX, reinstall DX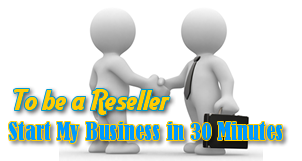 Related Applications
System backup and restore
AthTek Data Recovery supports to fast backup and restore your operating system, as well as important data.
AthTek RegistryCleaner
AthTek RegistryCleaner supports both x86 and x64 systems. It is the best registry clieanup tool for Windows users, and it can help a lot in removing fatal DX error.