Reinstall DirectX EZ - Completely Fix DX Issues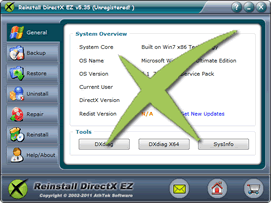 DirectX guarantees multimedia applications running in various fields including graphics, sound, animation and network etc. Without correct dll files or suitable versions, some games may fail to function normally. That's why it's highly required to fix DX issues in face of game errors like black screen, loading failure etc. To fix DX issues, system reinstallation is always a solution. However, you don't want to waste half a day sitting in front of your computer to fix DX issues by reinstalling system and all essential software.
Now there's a new way to fix DX issues without system reinstallation! Enjoy the convenient system disc recovery feature granted by Reinstall DirectX EZ and be a master of DX control right now. You just need to activate this comprehensive tool to gain access to various methods so as to fix DX issues fast and securely.
ABC to fix DX Issues
DXdiag

We will start from regular procedures to fix DX issues below. Only with sound proofs of DX glitches can we get down to repair DirectX. Whatever method you choose to manage the DirectX, go to general interface to check with DXdiag/DXdiag X64 respectfully on 32-bit and 64-bit systems. Moreover, the intelligent update analysis and direction function is offered here too. Click on the blue get new updates line to easily go to proper Microsoft update WebPages.

Fix DX Issues

It's completely confirmed that your DX has some troubles. Let's fix DX issues by rolling back it to system default state. You can achieve this function with repair feature. Just load up the system disk into CD-ROM, cut off your network and then extract DXsetup.exe file for recovery.

Reinstall DX

Apart from having the DX time travelled to system created point, we have to fix DX issues further by updating. Having a higher version will make your game run smoother and boost the playing fun drastically. No extra update is needed to win 2008 or vista players with the bound data in this tool. Other system users will find it convenient to get the relevant official updates in general interface.


Backup DX

Bling, bling. The clean and updated DX is waving her hands to you. She has a favor to ask before you taking the leave. "Can you take a picture of me so that I can return to this prime state later?" Stunned and suspicious are you are, you still use the backup file to copy the current DX to a designated space. "You can easily find the perfect me to fix DX issues in the near future." A grin and gentle sentence spring from her.


Restore DX

One day in not faraway future, your DX is getting some troubles again and giving you nuisance at games. You decide to turn to Reinstall DirectX EZ for help. She smiles and directs you to the restoration room where she can use the spell to change DX back to its previous condition. A simple charm and backup file will do the trick to fix DX issues in a blink of time!

If you still feel hard to fix DX issues completely, please view how to use.

Users' Review
Happened to a fatal directx error when playing game on my vista x64 system. Searched for the solutions to directx errors, but found nothing useful to me. Finally I found your reinstall directx ez, and I got all the directx problem solved! What I like it best, your program does not require to reinstall the operating system while the process of reparing directx ---------------- gamer from Great Britain
Tags
install DirectX, DirectX error, uninstall DirectX, DirectX diag, DirectX problem, fix DirectX, repair DirectX, control DirectX, DirectX rollback, revert DirectX, restore DirectX, install DirectX 9.0c, uninstall DX, guarantee game running, fatal DirectX error, install DirectX 11, install DX, DXdiag, DX error, fatal DX error, install DX 11, DX problem, fix DX, repair DX, control DX, DX rollback, revert DX, restore DX, reinstall DX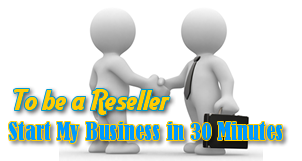 Related Applications
System backup and restore
AthTek Data Recovery supports to fast backup and restore your operating system, as well as important data.
AthTek RegistryCleaner
AthTek RegistryCleaner supports both x86 and x64 systems. It is the best registry clieanup tool for Windows users, and it can help users to fix DX issues easily.